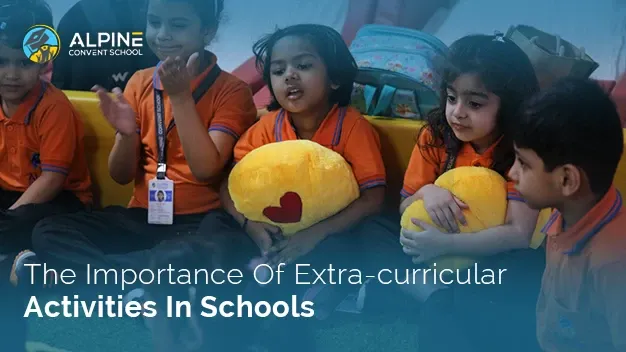 Learning
Extra-curricular activities are essential for all students. Do you agree? Sports, drama, or quiz; activities demonstrate the skills of a child outside the classroom. Moreover, activities other than academics nurture leadership skills in children and motivate kids to participate in community involvement. Hence, incorporating extra-curricular activities in top schools in Gurugram is a need of the hour. Are you searching for a school for your young one that offers a robust curriculum and a stream of extra-curricular activities? Alpine Convent School ranks as the best international school in Gurgaon. The institution offers an international pedagogy with state-of-the-art amenities to train and educate young scholars.
Did you know that encouraging students to perform extra-curricular activities improves their academic abilities and performance? Surprised? Let's run you down on the benefits of co-curricular activities for students.
The advantages of extracurricular activities
1. Enable students to explore their interests and perspectives
Is your child a bookworm, showing absolutely no interest towards physical activities or extra-curricular? If yes, it is worth switching up the little one's habit at the earliest. Introducing the young guns to multiple co-curricular activities inspires students to tap into new interests and discover new passions. What's more, participating in numerous activities broadens the horizon for the little one and encourages the little one to diversify their interests and passions.
Also, as students, do not wait for the main schooling to kick in. Enrol your child on the best playschool in Gurgaon and expose your young scholar to a world of new interests and opportunities.
2. A good dose of self-esteem and confidence
Do you know that simple things like hurdle games for kids give the little ones a better sense of confidence and self-reliance, especially on winning? Just like hurdle games, co-curricular activities enhance confidence and, more importantly, self-reliance and a strong sense of independence in children.
3. Harness young scholars with real-world skills
Extra-curricular activities are also described as skill-building activities. Here's why:
The activities work wonders in amping up real-world skills in the little ones. Some of the important and basic life skills include:
Analytical thinking
A pragmatic problem-solving attitude
A deeper understanding of the importance of setting goals and ambitions
Leadership skills, etc.
A reputable international school in Gurgaon entwines academics with oodles of extra-curricular activities to brain-train young scholars into confident, independent, and creative individuals. Wondering which is the best and the top-ranked international school in the city? Try checking Alpine Convent School.
4. Practicing time management
Extra-curricular activities help kids in valuing and managing time. Wondering how? Well, think about it – a ton of co-curricular activities revolve around time limits. Gradually motivating the kids to practice extra-curricular activities ingrains their skills in time management in the little ones.
5. Socialising
In a world where gadgets and the internet have taken over, it is easy for children to slip into isolation. Instead, encouraging kids to participate in extracurricular activities enables the little ones to collaborate and socialize with peers. Besides, outdoor activities refrain kids from awful screen time.
Did you always think that prolonged study hours are the only good thing for your child? Sadly, you are wrong! Some play time and extra-curricular activities work like magic in improving productivity in young scholars. In fact, outdoor activities reward kids with a space to tap into their interests and passions that were never explored. This quite explains why the best schools in Gurugram are dedicated to incorporating skill-steering co-curricular activities with strong and organized academics.
What are the best types of extracurricular activities in schools?
It is no secret that every child is different, with distinct personalities and diverse interests. An eminent international school in Gurgaon, much like Alpine Convent School, offers a supportive and valuable learning environment for kids to thrive. Of course, catering to every personality and every interest is critical. Hence, schools introduce an array of extra-curricular activities for children to refine their skills, interests, and passions. These activities include:
Sports
Music
Dance
Drama
Arts
Debate clubs, and more.
Do extra-curricular activities have an impact on young brains?
Frankly, extra-curricular activities have shown significant improvements in a scholar's cognitive and personality development. In fact, little do you know that students that actively participate in co-curricular activities and drills succeed in academics with flying colours. Extra-curricular activities build competence, skills, and a strong mindset in children, helping scholars step into leadership roles and improve the welfare of children. Enrol your child in Alpine Convent School, an international school in Gurgaon, to introduce your child to the best of academic and extracurricular activities.
What Is An Integrated Curriculum? Introduction And How Is It Beneficial?