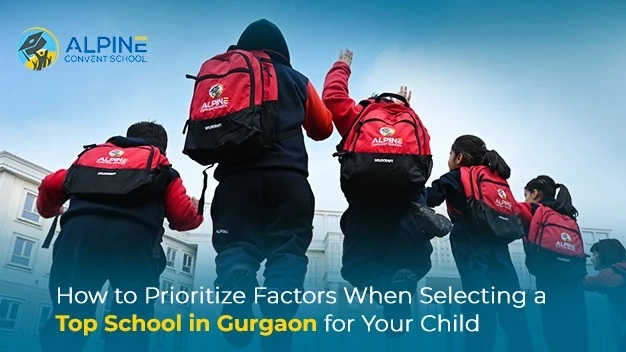 Admissions
When every school in Gurgaon claims to be the best, narrowing down a single one is indeed a giant's task. But, what if we say that the path to selecting the ideal school for your child isn't as complicated as it seems? Gurgaon is a bustling city with innumerable educational opportunities. Picking the top school in Gurgaon is majorly driven by the level of educational diversity and excellence they offer. To make an informed choice, as a parent, you ought to have clarity on the prioritizing factors that need to be considered for selecting a school. In this blog, we will be discussing at length, the crucial factors for every parent to know before proceeding with school selection.
Top 1o Factors to Prioritize When Sorting the Best School in Gurgaon
While one group will ask you to consider the best schools in Gurgaon sector 10, the other will talk highly of sector 52. But you will only be able to properly decide on the best school after considering the below factors.
Academic Superiority: Is there even a doubt about the fact that most parents look for academic excellence while selecting a school? To properly understand if the school possesses academic excellence, start by researching their track record including the board exam results, academic awards, and further affiliations. The top school in Gurgaon will consistently produce outstanding academic accomplishments.
International Curriculum: There is a quite a high count of international schools in Gurgaon, and the reason is the increased shift towards international curriculum. Parents, of today's time, are more drawn towards providing their children a global exposure. As a result, they are aiming at programs like the International Baccalaureate (IB) or Cambridge curriculum. Apart from gaining a comprehensive perspective, it can be advantageous to parents who relocate.
Reputation and Accreditation: The reputation of a school talks in abundance of its quality. Seek schools with accreditations from recognized bodies like the Central Board of Secondary Education (CBSE) or the Council for the Indian School Certificate Examinations (CISCE). The best schools in Gurgaon sector 10, like Alpine Convent, are likely to have these accreditations.
Infrastructure and Amenities: Take note of the school's amenities, such as its classrooms, libraries, labs, sports facilities, and technological resources. An exhaustive learning experience is greatly leveraged by these.
Faculty's Adeptness: A child's education is largely influenced by the quality of the teachers. Find more about the credentials, work history, and chances for professional growth that are proposed to teachers. High-quality teachers are recruited and kept on staff by the best schools through investment.
Student-Teacher Ratio and Class Size: The smaller the class size and student-teacher ratio would be, the better will be the personalized attention. Young children are more likely to be carried away even by the smallest of things. Therefore, having a compact class size will make it easier for the teacher to attend to every child.
Co-Curricular Activities: A well-rounded education includes co-curricular activities including sports, the arts, music, and clubs. Beyond the classroom, these activities can help a youngster develop their abilities and interests.
Safety and Security: Nothing beats your child's safety, and as a parent, you ought to check the safety and security measures of your preferred school. Ensure that the school has stringent security measures in place like trained employees, visiting policies, and emergency response procedures.
Location and Accessibility: Consider the proximity of the school to your house. Your life and the life of your child can be made simpler by short commutes. Moreover, your child will certainly not like to get stuck in the endless Gurgaon traffic, right?
Extracurricular Opportunities: Do your selected international schools in Gurgaon offer extracurricular opportunities like field trips, competitions, and international exchanges? Conduct thorough research on the same. Your child needs exposure which only top-notch extracurricular activities can promise.
Parent Participation: A school's dedication to including parents in their children's education is valued by certain parents. Parent-teacher organisations, workshops, or regular meetings may be used to accomplish this.
Finally, settling on the top school in Gurgaon sector 10 or elsewhere is a huge decision that must be thoroughly considered. The ideal school for your child will match your family's aims and interests while also providing an engaging and encouraging educational atmosphere. Take the time to research, tour schools, and chat with other parents to make an informed decision that will place your child on the path to success.