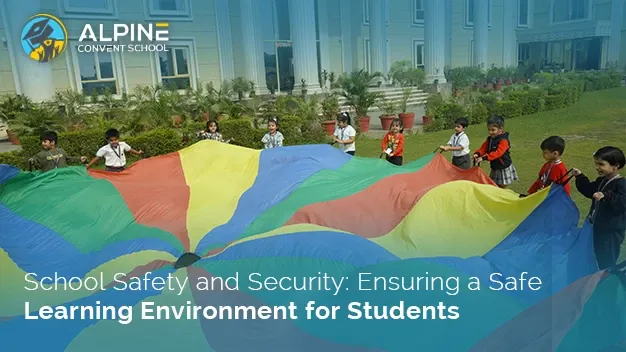 Learning
On average, a child spends half of their day in school. As a result, safety and security become necessities when parents look for schools for their children. Kids are sensitive and often related to a flower for their immense innocence and affection. They truly are the apples of their parent's eyes, and ensuring their safety is indispensable. The best playschool in Gurgaon understands that, and as a result, surveillance cameras, constant inspection, and more. Quite often, news about dangerous incidents at the school premises floods the internet. Therefore, it is inevitable for parents to fear for their child's safety. With the development of technology, education boards have also become adept in their approach towards security and safety. Let us check how the top schools in Gurgaon ensure safety.
Security Approaches Incorporated by the Top Schools in Gurgaon
What is the most highlighting feature of the best playschool in Gurgaon? Apart from the fact that these playschools comprise adept and affable teachers, these schools are also stringent about the safety of their students. Playschools consist of kids, and attending to the kids' safety acts as a prerequisite for the school. Even in regular schools, the administrators are primarily accountable for the security of their students. But how do they do it?
1. Guarded Perimeters
A safe school entails a secure perimeter guarded but implementing safety procedures. These procedures include designated drop-off locations, restricted entry points, parking lots, and, most importantly, continuous CCTV surveillance.
2. Strict Restrainment of Access Points
You might notice that the best schools in Gurgaon will always have a designated for the entry and departure of students and staff only. The remaining doors should always be kept under rigorous checking.
3. Thorough Analysis of the School Routes
A very disregarded yet extremely crucial factor to consider is the school routes. Multiple mishaps take place mainly during the commute from and to schools. The ideal way to ensure safety is through inspection of the road conditions. Due to adverse road conditions, many students take the road and walk, eventually getting into trouble. Notice proper speed breakers and signboards, signals, traffic surgeons, and more.
4. Scrutinize the School Ambience
Apart from the aforementioned factors, the best schools in Gurgaon also comprise a safe and sound ambience. A deep analysis of the school environment needs to be conducted to ascertain facts like No trace of dangerous stray animals that might attack students or the probability of a tree falling while the children are engaged in playing.
5. Surveying the School Bus
School buses carry numerous students every single day to and from school. That is why it is extremely important for the school authorities to conduct a thorough audit of both the interior and exterior of the bus. Examining the facts whether the tyres and brakes are functional, the doors and windows are in good condition. Alongside this, it is also necessary to check whether the engine is in working condition as well as the coolant level.
5. Impart Road Safety Education to Students
School authorities are equally responsible for communicating significant road safety education to students and prevent from risking their lives. Many students travel to school by bus and even alone during their mid-high years.
6. Display of Emergency Numbers
Every school bus should have a continuous display of emergency numbers to make it accessible to students. Numbers of local police stations, hospitals, school principals, ambulances, and more, are necessary to be displayed in the school buses. In fact, the identity cards should also contain emergency contacts of parents.
7. First-Aid and Inter-School Clinic Service
Having emergency clinics within school premises is an ideal way of throwing light on an essential stride forward. Moreover, it is imperative for the authorities to maintain well-stocked first aid kits containing all essential ointments and medicines. Given that accidents can occur unpredictably, any delay in providing proper medical assistance may lead to potentially severe consequences.
Alpine Convent School stands as a testament to its commitment to providing a safe and secure school environment. By taking significant steps, such as equipping emergency clinics within the premises and ensuring well-stocked first aid kits are readily available, the school demonstrates its dedication to the welfare and safety of its students. By acknowledging that injuries can happen at any time and proactively preparing for such scenarios, the school minimizes the potential after-effects of any accidents that may occur. With these measures in place, students, parents, and staff can rest assured that Alpine Convent School is the best playschool in Gurgaon for their kids.