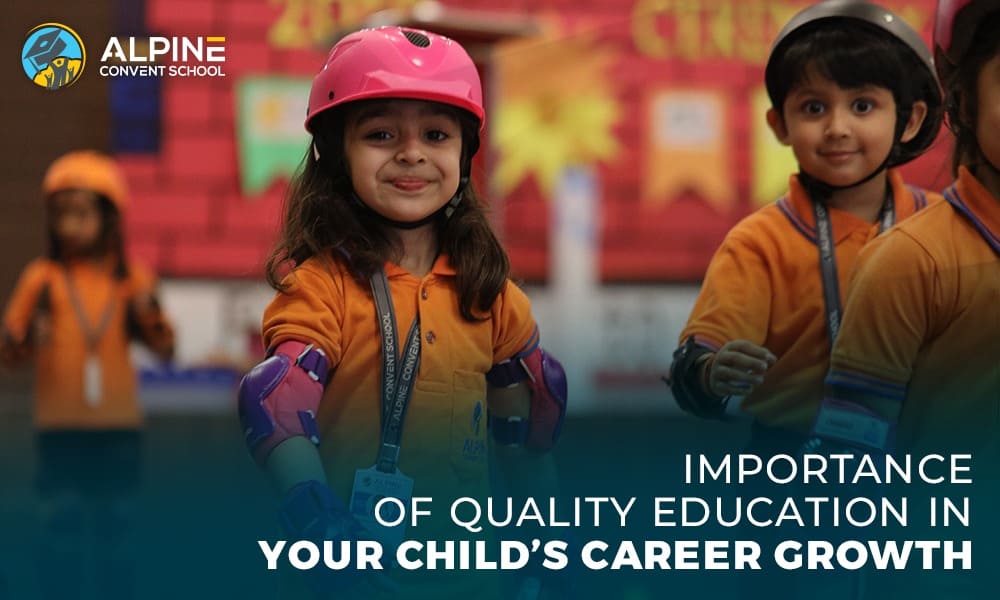 Career
Good education empowers scholars. Do you agree? Quality education is an important tool that enriches the life, mind, and attributes of young minds. Are you of the idea that education is all about ingraining young scholars with insightful information about subjects? Wrong! Instead, education caters to the overall development of a scholar. Right from a child's cognitive capacity and confident personality to skills, independence, and more, education is undoubtedly a powerful weapon that trains and shapes a bright future for young minds. Now that you know the importance of imparting your child with good quality education, are you curious to know about the best school in Gurugram?
Alpine Convent School, one of the top schools in Gurgaon, is dedicated to serving excellence and class apart education to young scholars. The school features a supportive and tech-equipped environment to educate, nurture, and train promising students. Learning here is a fun and engaging experience. The school is home to the most diverse, proficient, and humble teachers that mentor the little ones to grow up into able leaders.
Leadership, often described as a skill, is impossible to ace if textual knowledge and strong memory are all a child is good at. Alpine Convent School teaches children basic life skills to flourish and stay a cut above the rest. Besides, the school offers a formal learning environment, imparting valuable knowledge and personality-building skills to little ones.
Why is quality education essential for child growth?
Are you looking forward to enrolling your little one in the best playschool in Gurgaon? It is definitely a no-brainer that elementary education sets up a solid foundation for future learning. Hence, schools offering nothing short of extraordinary education and valuable skill-based learning stand out as the only obvious choice. Luckily, for those staying in Gurgaon, Alpine Convent School tops the list of A1 schools in Gurgaon. If you are not already aware, education today is also about instilling the right values and strong interaction skills in children.
Are you eager to learn about the remarkable benefits of quality education? Let's look at a few:
1. Preps the scholars for future learning
Students who are exposed to a standard learning environment acquire good academic knowledge, impressive social and collaborative skills, value-adding life skills, and a creative inclination to win a place above the mark in the future.
2. Education inspire kids to unveil skills and abilities in themselves
Scholars are more likely to read and get done with lessons in school. However, only compassionate and proficient teachers make learning an interactive and riveting experience. What's more, teachers guide students to discover the skills, abilities, and things kids are most passionate about. In short, enrolling in the best playschool in Gurgaon introduces children to the best of experiential learning and not just any lesson or classes.
3. Good education blesses scholars with a competitive advantage
Did you know that students performing well in school or scoring good grades tend to have a great advantage in the outside world? This clearly implies that such students are likely to get hired or bag the finest jobs in time. Wondering how? Well, these students don't just have the knowledge to flair well in academics but the skills and know-how to perform greatly in a competitive racket.
4. Quality learning experience builds social skills in children
Have you narrowed down your options for the best school in Gurugram? Little do you know that top schools like Alpine Convent provide learners with ample facilities and platforms to socialise, interact, and make relationships with peers. Socialising skills naturally amp up confidence and independence in children.
The perks of good and quality education are far more than you realise. For instance, quality education gradually inspires children to enhance their individual well-being and become a more productive version of themselves. Besides, education is also about pairing academic abilities with creative and essential life skills.
Is quality education a need of the hour?

According to reports, over 124 million students globally fail to receive the basics of standard and quality education. A lack of infrastructure and the ignorance of grooming scholars with necessary life skills contribute to the odds. Fortunately, top schools in Gurgaon, like Alpine Convent, offer the best-in-class and ideal learning setup for children to grow and thrive as confident and skilful adults.