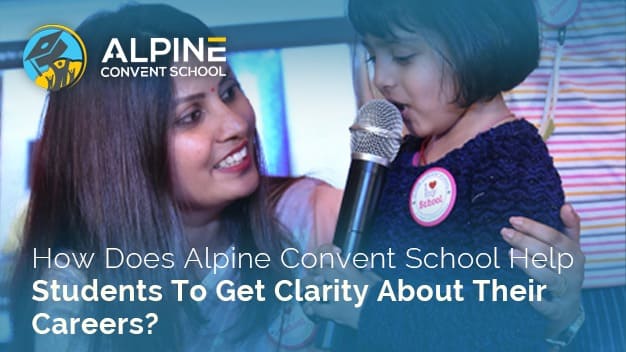 Career
Education in the present 21st century is a lot more enhanced, thoughtful, and career-driven. Do you agree? If you are aware, conventional learning is all about theories and texts and is truly result-driven. Unfortunately, the traditional learning modules aren't that effective in grooming scholars for a competitive and flourishing career. Curriculums are now rightly described as career-ready. Do you know why? Well, it strengthens the foundation of young learners and equips them with skills, knowledge, and expertise to compete and thrive in the rat race. Following the trend is Alpine Convent, the top school in Gurgaon.
Alpine Convent School is one of the well-known international schools in Gurgaon. The institution follows an all-inclusive approach to fine-tune children into strong and independent decision-makers. Besides, the school harnesses emotional intelligence in children and provides clarity about career and future prospects.
Why should schools familiarise children with the various career paths and career opportunities?
Gone are the days when engineering and medical science stood out as the only prospective career paths. There are umpteen lines of work and career opportunities available to be explored today. Hence, it is critical to help students with clarity about career paths and opportunities. Wondering why? Well, educating children about the roles, responsibilities, and growth that are associated with every line of work helps the growing scholars pick the best-fit career of their choice.
Think about it – how often do students embark on a career path without putting much thought into it or without understanding the ins and outs of the industry structure? Several times! Result? Disappointment, uncertainty, and finally, depression. Hence, ensuring that a student makes an informed choice is a need of the hour. This is why it is critical for schools to familiarise students with diverse career opportunities and prospects. Also, mentors guide students to think, comprehend, and evaluate if a certain career is a right choice and how to set their career goals.
In addition to assisting students in deciding the right career path, the best schools in Gurgaon sector 67, like Alpine Convent School, introduce children to the perks of proper planning. Little do you know that international schools like Alpine Convent designs a curriculum that combines the goods of academic affairs and strong skill-based programmes. Wondering how that helps? Well, comprehensive curriculums like such harness real-life skills and cognitive abilities in young scholars.
How are international schools nurturing young scholars to take a grasp on life?
Have you always been curious to find out the best schools in Gurgaon with fee structures? Well, standing tall as one of the top-ranking CBSE schools in Gurgaon is Alpine Convent School. The institution boasts the best-in-class teaching faculties, motivating students to find out their true calling. From analysing and tapping into a child's area of interest to guiding scholars to bring their skills and passion to fruition, teachers at Alpine Convent offer guided and personalised learning.
So, are you eager to know how Alpine Convent mentors students to follow a promising career path? Let's explain:
As a top school in Gurgaon, Alpine Convent encourages scholars to self-explore. The school familiarises children with the various career opportunities, giving students clarity of mind and detailed information about the various career paths.
The school guides children into sprucing their skills and expertise in specific programmes that reward the student with an edge to succeed in the rat race.
Scholars at Alpine Convent are exposed to umpteen extracurricular activities to sharpen skills and strengthen cognitive and emotional abilities. This allows students to flourish with a competitive and intelligent edge.
Teachers at Alpine Convent keep tabs on a child's academic performance and learning interests. Accordingly, the teacher mentors a scholar to follow a specialised learning routine and upgrade the necessary skills to flourish and succeed.
The benefits of personalized career guidance
Alpine Convent School, one of the reputed and best schools in Gurgaon sector 67, mentors students to grow into independent and smart individuals. Curriculums here focus on stepping up intelligence, self-confidence, and independence in children at an early age. It is a great way to motivate students to realize their abilities and explore the right road to a winning career. Here's how career guidance works:
Assist children in understanding and exploring a wide option of career paths
Motivate scholars into brushing skills and expertise needed to succeed in a given career
The right career guidance encourages students to discover their interests, abilities, and, of course, ambitions.
Most importantly, educating students about career options equip students with a better idea about the various lines of work. It also enables students to make informed choices.
To sum up, giving children the right career guidance is more important than ever. Look no further and enrol your child in the top school in Gurgaon or Alpine Convent School.
Read more: Which Schools In Gurugram Offer The Best Value In Education?