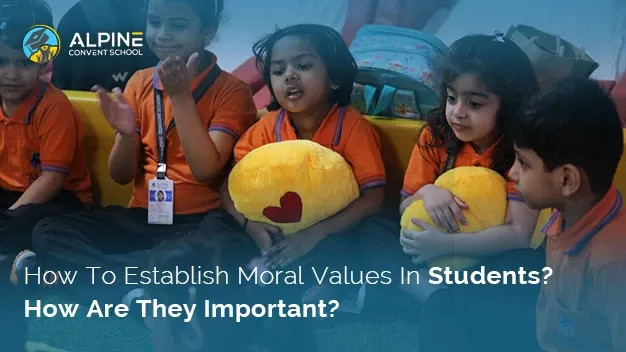 Moral Values
Have you heard of the phrase, "We are all born as empty vessels and are shaped by moral values?" Believe it or not, moral values are an integral part of an individual's character. And it is vital to integrate these values in individuals right from their childhood.
Have you been searching for the best schools in Gurgaon? Yes, it's tricky. Narrowing down one good school for your little one is truly challenging. However, always ensure that you select a school that imparts moral values along with enriching academic experiences. Wondering why? Well, incorporating moral values in students shape a good character and a strong personality in children. Besides, it guides children in understanding what's good and what's not. In short, establishing moral values in young scholars is more important than ever. Hence, institutions like Alpine Convent School ensure that primary education is well paired with extra-curricular activities and classes that inculcate moral values in children.
What is the importance of teaching moral values?
Early childhood is undeniably the right age to strengthen a robust character in children. In fact, it is believed that the lessons and moral values one integrates into a young and growing child linger with them throughout their life. It naturally brain-trains the young ones to follow the values as and when required and work on their behaviour.
Are you still brooding about where to enrol your ward? Looking for an international school in Gurgaon that imparts the right moral values? Look no further. Alpine Convent School is one of the most eminent international schools in the millennium city, educating scholars with the best academics and co-curricular activities. Ingraining moral values in students does not take a backseat at the institution. Teachers at Alpine Convent are constantly involved in mentoring children with the right moral values and guidance to thrive and succeed.
While the importance of teaching moral values is not understated, do you realize how it helps? Let's explain:
1. Shaping a strong character in students
Building the foundation of a strong character in scholars is not as difficult as you picture. It is strengthened by the virtues and values that have been ingrained in kids since their early childhood. Good values such as kindness, modesty, honesty, a caring nature, and humility go a long way.
Inculcating these values in kids guides the little ones to a path of righteousness.
2. Moral values enhance confidence in young scholars
Surprised to hear of this? Well, moral values enable children to understand the significance of sharing and empathy. It helps them realize the happiness and satisfaction one earns in helping or supporting others, which is also far more satisfying than materialistic pleasures.
3. Assists children in understanding the difference between right and wrong
Believe it or not, the struggle to pick between right and wrong is a lifelong challenge. Hence, some of the best schools in Gurgaon, like Alpine Convent School, inculcate the virtues that enable kids to differentiate between things that are either morally right or morally wrong.
In short, moral values are of great importance, especially in motivating children to think of others, embrace a never-give-up attitude, and have a humble personality. Are you eager to mentor your child into becoming selfless and good-hearted? If yes, it is a no-brainer that you must enrol your child in an institution that's popular for the kind of academic standards and moral values it imparts. Wondering if are there any best schools sector 56, Gurgaon? Of course, there is. Check out Alpine Convent School.
Now that you know how important moral values are in shaping a strong, humble, and good character in students, are you wondering how to inculcate the values in your little one? Here's sharing a few good ways to establish moral values in children.
How to instill good moral values in your child?
1. Be a role model for your little ones
Didn't you always know that children learn from their surroundings? The way you behave or treat others around you shows a lot about your personality and nature. Hence, one of the best ways to ingrain strong moral values in your little ones is by demonstrating the same.
2. Read out stories that express strong moral values and lessons
Driving in moral values is not a one-day affair. It is a gradual and long process that involves establishing moral values in children. Start by reading your young gun stories that are engaging but also tell-tales a moral lesson.
3. Allow children to fancy a scenario that instills a good character in children
Give the little ones scenarios or situations that coerce children to think and learn how to evaluate a situation. Describing this as a value-building exercise is appropriate.
4. Always keep tabs if your child's school has valuable education
Although value education is quintessential, not all schools host classes in moral values. However, Alpine Convent, an international school in Gurgaon, offers value education as a quintessential part of their holistic curriculum to train and mentor children into strong and moralistic leaders.
Always remember, the moral values you ingrain in your child today decide what the little one grows into tomorrow. So, make sure you strengthen your child's morally-rich personality in their early childhood.