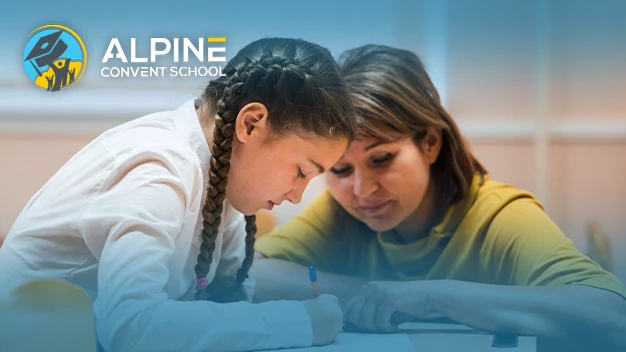 Learning
Are you looking forward to raising your child into perfectly groomed adults, creative, independent, and future-forward? Enrolling the little one in the right school is pivotal. It goes without saying that a well-designed curriculum plays a big role in preparing a scholar. However, what works even better is academics paired with extra-curricular and specialized mentoring. Ticking all these boxes is Alpine Convent School, a top international school in Gurugram, rewarding students with an all-encompassing curriculum and a holistic experience.
Personalized mentoring, a well-curated academic module, athlete tracks, a skating rink, a tennis court, and ample other amenities, Alpine Convent stands out as a top school in Gurgaon for all the right reasons. In addition to academics, communication skills are quite crucial to flourish in the world today. Did you picture speaking as the only significant communication skill? While the ability to kick off conversations is primary, brushing one's writing skills is just as important. Education too casts a strong emphasis on writing.
Think about it – scholars are flooded with assignments, essays, projects, and more. Not knowing how to frame a perfect sentence adds to the trouble and anxiousness among students. Alpine Convent, undeniably the best CBSE school in Gurgaon, offers dedicated tutoring to students, refining their writing skills, intellectual abilities, behavioral aspects, and more. Saving students from their biggest pitfalls, mentors at Alpine leave no stones unturned to school the kids about the basics of comprehensive writing.
What comprehensive writing skills are all about?
Mastering the basics of comprehensive writing is not restricted to a literary genius only. Whether you aspire to become a swanky designer, a doctor, an accountant, or an influencer, writing is needed everywhere and in every profession.
Wondering if comprehensive writing is any different from the basic writing rules? Absolutely not! Comprehensive writing is a broad term that highlights features like grammar, spelling, punctuation, framing of a decent sentence, paragraph etiquette, etc. Formulating an appropriate and detailed sentence is a basic comprehensive writing skill. In short, comprehensive writing encapsulates factors like:
Recognizing the right use of grammar
Identifying the need to add punctuation in the right place
Apt structuring of sentences
Analyze a relevant point of view and tense
The right usage of capitalization.
Alpine Convent, a known international school in Gurugram, educates students about the ins and outs of comprehensive writing, right from an early age. Specialized tutoring trains all scholars well enough, seasoning the students to become skilled communicators in the long run.
Handy tips to spruce up a student's comprehensive writing skills
Are you willing to go an extra length to fine-tune your writing skills? Let's share some tips to help you make a profound effort.
Reading is a brilliant habit
The best Convent school in Gurgaon or Alpine highlights the benefits of practicing reading every day. Little did you know that scrolling through a string of words and sentences helps you develop an eye for an effective writing pattern.
Keep a close watch on the key traits of comprehensive writing
Nothing works better than monitoring your own style of writing. Always keep tabs on the grammar, spelling, punctuation, etc. Proofreading your scribed lines over and over again helps you identify the errors and improve your writing.
Practice writing every day
Do not underrate the age-old saying 'Practice leads to perfection.' The more you write, the better you get at it.
Keep it simple
A simple sentence is easy to read, engaging, and makes the narrative clear. Avoid overly stuffing your sentences with pointless fillers and complex words.
Analyze a writing style you admire
If a certain style of writing draws your attention, go ahead and invest a good number of hours reading between the lines. The more you read, the better you get at embracing the style and flair.
Think before your pen down
Dig in and study ahead when writing essays or reports on a specific subject. Having clarity of thought supports you in creating an outline for the piece you are about to write.
Follow the above-mentioned tips to get the hang of comprehensive writing. Don't shy away from comparing your present assignments with your previous pieces of work. It will step up your confidence, going forward.
Alpine Convent, a top schools in Gurgaon, realizes that communication skills are a need of the hour. Students who are great talkers might not excel at putting their thoughts and ideas into words and vice versa. At Alpine, teachers mentor scholars to develop a flair for both speaking and writing. Why just rattle on when you could pen your ideas without any challenge?