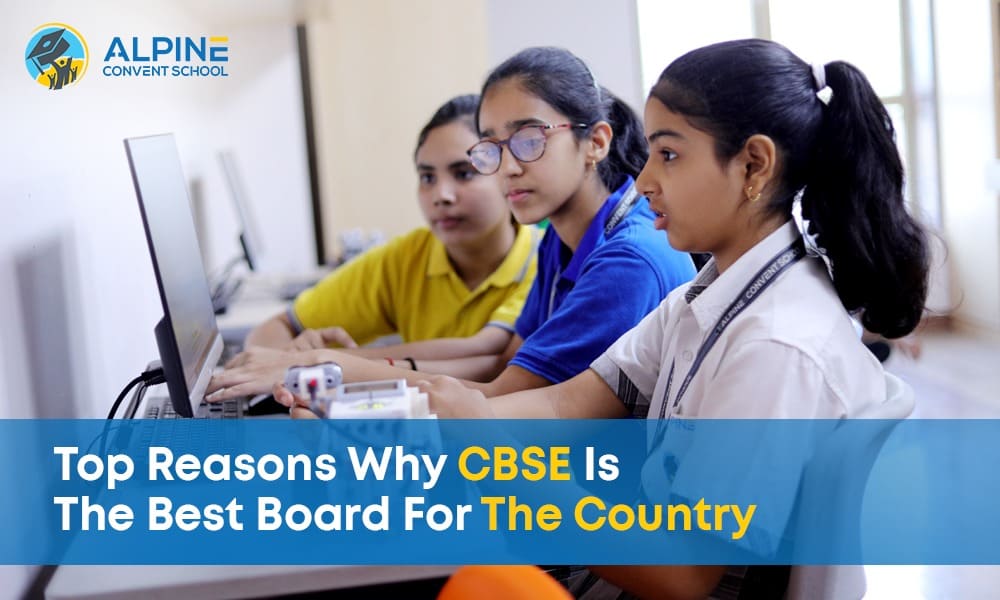 Admissions
CBSE, or the 'Central Board for Secondary Education,' is a preferred and recognized The Best board for the country. Some even describe CBSE as a nationalized education board featuring a comprehensive syllabus for the students. Are you wondering if CBSE is the right pick for your child's academic future? It is easy to feel muddled with options like ICSE (Indian Certificate of Secondary Education) and other State Boards functioning in full swing. However, CBSE introduces a well-curated curriculum that plays a vital role in shaping a student's future.
The perks of enrolling a young scholar in a CBSE-affiliated institution are too many. For example:
The board of education is specifically recognized by the Government of India
The syllabus is all-encompassing and arranged based on the parameters highlighted by the Indian Government.
Are you having a tough time slimming your options for the best CBSE school in Gurgaon? The Alpine Convent School is one of the finest CBSE-affiliated schools in the country. A lavish six-acre campus welcomes students into a world of international-standard pedagogy and unparallel infrastructure. Children at Alpine enjoy personalized tutoring and an opportunity to explore skills from an array of extracurricular options like sports, theatre, yoga, and more.
Alpine Convent is undeniably among the top international schools in Gurgaon. However, what sets the school apart is its student-friendly CBSE-affiliated curriculum. It is no secret that the nationalized board focuses on creating a compact and easy-to-follow syllabus and not burden students with complex educational modules. Besides providing students with primary top-grade tutelage, CBSE has a lot more advantages. These include:
1. An edge in competitive exams
The most raved competitive exams like the All India Institute of Medical Sciences (AIIMS), Joint Entrance Examination (IIT-JEE), All India Engineering Entrance Examination (AIEEE), and others are conducted by the national CBSE Board, the best board for the country. Therefore, students enrolling in the best CBSE school in Gurgaon, like Alpine, are familiar with the board's education structure well in advance. This certainly hikes a scholar's chance to score well and crack success in competitive exams.
2. Relocating is easy and hassle-free
Parents slogging in transferable jobs kiss goodbye to peace worrying about their child's academic future. A switch in school is challenging enough, but a total shift from state boards to any other academic module is crippling for the young scholar. Luckily, CBSE is for the win. A large count of schools and not just the international schools in Gurgaon adhere to the CBSE education board. Hence, work transfers become a lot less troubling and stressful for the child.
3. Convenience of private exams
Boards seldom allow private students to sit for examinations. If a scholar is not regular, there is very less chance that the student will be allowed to write the board exam. CBSE encourages students (regular or private) to wrap up examinations with ease. The only condition is that the school or tutelage a student is enrolled in must be CBSE affiliated.
4. Multi-language medium of instruction
Boards like ICSE emphasize more on English as the only medium of instruction. CBSE, on the other hand, which is the best board for the country, wishes to educate a wide range of the populace. Thus, students enrolling in a CBSE board can avail education in English, Hindi, and many other vernacular languages.
5. CBSE introduces an easy-to-adhere education structure
The CBSE learning module is very compact with a lesser number of subjects. Is a student any good if he or she is a Jack of all subjects with little to no knowledge? This is why kids at Alpine, the best CBSE school in Gurgaon, are tutored on subject matters they are interested in. All unnecessary secondary subjects are pulled out of the curriculum, as per the board's instructions.
Long back, rumors circled that CBSE was all about theories and textbook knowledge. In reality, the board reckons the significance of both theory and practicals for a wholesome academic experience. Schools in Gurugram like Alpine Convent allow students to indulge in fun practicals and interactive theory classes for an in-depth understanding of a subject.
6. Grading system
The downsides of a regular scoring system are not unknown. Children judged by scores feel unhealthy pressure in a cut-throat competition, fighting for every single mark. The CBSE board follows a grading pattern, leaving room for the students to make improvements and not sulk in stress.
To conclude, dropping into Alpine, the best CBSE school in Gurgaon, is a good idea. The flexibility of tutoring children at ease and a crisp student-friendly curriculum keep a child engrossed and not fretful of the overwhelming pressure.