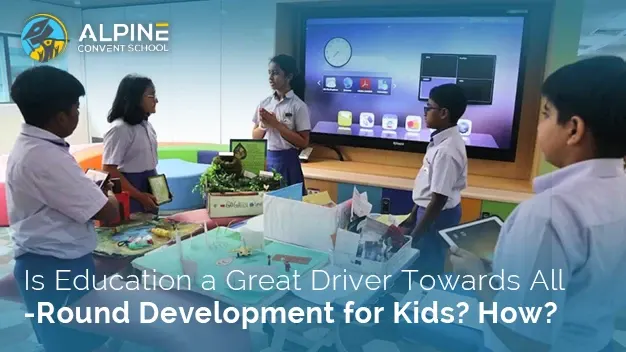 Career
Education forms the root of knowledge, discipline, humanity, and growth for several people worldwide. There is a reason parents frantically look for the top school in Haryana; they want their child to receive pragmatic education by elite faculties. Gurgaon has become a place where you will find countless reputed companies and distinguished educational institutions. If you reside in Gurgaon, you are already in one of the finest places for schooling. These schools have gained prominence as they mainly emphasise imparting knowledge to become cognitively intelligent, a person with a broader perspective, self-reliant, and more.
How Does Education Contribute to the All-Inclusive Development of Children?
Education is not limited to books; from their inception, these schools have disseminated knowledge through extracurricular activities, performing arts, lab-oriented activities, research works, and more. For all-around development, the school is greatly responsible for imparting the proper education. Let us check out the benefits of attaining comprehensive education from schools.
1. Emphatic Communication Skills
There is hardly any thought or idea that cannot be conveyed with sound communication skills. All you need to know is the ideal way of communicating it. Regardless of what your child aspires to be - doctor, teacher, astronaut, project manager, and more, communication is really the key. There are numerous best schools sector 56, 38, 67, 10, 29, and other top areas where faculties groom the kids early to hone their communication skills. As a result, students from these sectors tend to possess a greater potential to grasp new skills.
2. Emphasis On Art and Innovation
Both ICSE and best CBSE school in Gurgaon mostly have one thing in common - the focus on art, innovation, and creativity. Every other child wants to see themselves as great dancers, painters, dramatists, singers, sportspersons, and so on. The reason behind parents' consistent attempts to get their children admitted to renowned schools is they make generous attempts to groom their artistic and innovative talents as well. The top schools are very much immersed in honing the overall development of the students by training them to be skilled in the artistic sphere as well.
3. Building Social Skills
It is imperative to have sociable skills to ensure an optimistic and seamless life. It is next to impossible for any person to live happily without associating with other friends, relatives, family, and acquaintances. But there are many people whose dearth of social skills has pushed them towards issues. When your child can swiftly interact with people without the fear of judgement or communication gaps, they are instantly heading towards a better future.
4. Sharpening Critical Thinking Abilities
Critical thinking is a powerful way of understanding and reflecting on a person's own outlook. A solid knowledge of critical thinking will undoubtedly make a student comprehend how the world works and their take on resolving the issue. Through skilful critical thinking abilities, students become more confident and self-assured.
5. Making Physical Evolution a Primacy
For the longest time, schools have offered physical education in a bush-league manner. It was conducted only for the sake of it, with students barely moving their hands and legs. But now priorities have shifted, and every top school in Haryana has incorporated regular immunity and agility-boosting exercises. As everyone knows, a healthy body is equal to a healthy mind. And the top schools will always want their employees to be fit and fine.
6. Encouraging Participation
When you admit your child to a top CBSE school in Gurgaon, you ensure they are encouraged to participate in numerous fields. One crucial aspect of renowned schools is grooming the kids to face hurdles and participate without fear. When students have the conviction to face the world, they will automatically acquire expertise in climbing the ladder of success.
7. Prepares them for Future Education
An all-around development includes learning the syllabus and sharpening cognitive, social, awareness, and numerical skills. As a result, the students from an early age are nurtured to be all-rounders with higher chances of receiving scholarships, college funding, getting jobs, getting admissions, and so on.
Apart from all the aforementioned reasons, one reason that receives much traction is choosing the right education board. Only after conducting thorough research on ICSE, CBSE, or foreign boards will a parent fathom the core curriculum. Alpine Convent is often called the best CBSE school in Gurgaon that has strived relentlessly to become what it is today. If you are a parent and looking for a top CBSE school, without any doubt, contact this school for a comprehensive education.