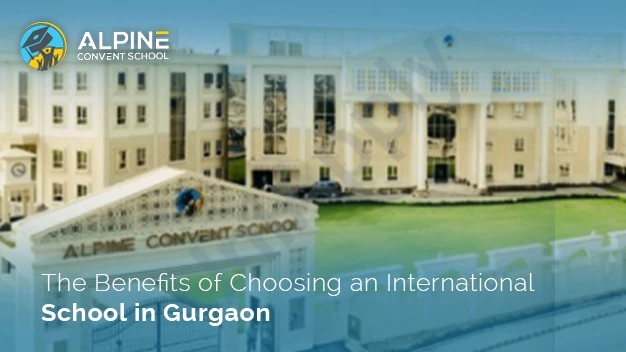 Schooling
If you look closely, you will notice that new-age parents are more likely to get their children admitted to an international school. But why is there a sudden inclination towards international school? The main reason behind parents preferring an international school over others is the global exposure. The majority of international schools offer world-class education along with exceptional amenities. Gurgaon residents are truly fortunate to find numerous international schools at close proximities to their houses. If you are someone who is looking forward to knowing the benefits of getting their child to the top schools in Gurgaon, then this blog is best suited for you.
Benefits of Enrolling Your Child in an International School in Gurgaon
Admitting your child to an international school will nurture their future in a similar manner to that of students around the world. From the tender age, they will be groomed to become the best version of themselves and certainly competent professionals. Let us check out some of the benefits:
Acknowledged by the Best International Universities
In your search to find the best international schools in Gurgaon, you will notice that the schools are well-recognized by reputed institutes worldwide. This will act as a boon for your child during their higher studies, and corporate career - thereby brightening their future.
Exploring Diversified Culture
Quite a large number of the best schools in Gurgaon offer international curriculums to endow their students with the joy of exploring diversified cultures. Unlike regular boards where the focus is on singularity, international boards encourage their students to embrace global cultures present across the world. As a result, students graduating from international schools tend to be more conscious, wise, versatile, and conversant. These students find it comparatively easier to adapt to work cultures anywhere across the globe.
Character Evolution
There are numerous top schools in Gurgaon that embrace diversity in qualities and culture. This facilitates emotional growth among children leading them to become strong human beings. Students hailing from international schools relish the lifelong bonds that they establish with other kids belonging to different ends of the world. This diminishes the language barrier, cultural barrier, thinking barrier, and more. These students become experts in engaging in face-to-face conversations, daily challenges and making mature decisions.
Extracurricular Activities
Another significant benefit that makes international schools a preferable choice is their availability of innumerable extracurricular activities. Holistic development is not only guaranteed by academics but also by extracurriculars. These activities are extremely vital for skill development. For instance, students can conceive immense creativity by partaking in activities like debates, recitations, math leagues, and more. These activities help students hone their confidence and gain confidence.
Learner-Centric Approach
Inquiry-driven teaching, project-based learning, and technology integration are examples of learner-centric strategies that encourage active student participation. Global viewpoints are introduced into classrooms by varied faculty members, and small class numbers provide individualised attention. Co-curricular pursuits and hands-on learning emphasise holistic development while also enhancing students' growth.
Problem-Based Learning Approach
Gurgaon's international schools have employed the problem-based learning approach to create a lively learning atmosphere. This approach differs from traditional rote learning in that it promotes collaborative problem-solving among pupils. A problem-based learning approach fosters critical thinking, problem-solving skills, and flexibility. To promote holistic learning, these educational establishments integrate multiple subjects into real-world issues. Students engage in debates, research, and creative projects that address global issues in order to better equip them for a complex and linked world.
Furthermore, this strategy encourages collaboration and dialogue, two things that are critical in a labour market that is becoming more and more globalised. Leading the way in cutting-edge teaching methods that equip students for success in the twenty-first century are Gurgaon's international schools.
All-Round Development
In addition to academic excellence, holistic development is highly valued in Gurgaon's international schools—though this is true of every top CBSE school in Gurgaon as well. They offer a comprehensive education encompassing intellectual, physical, emotional, and social development. These educational establishments nurture the varied aptitudes and passions of their student body by providing an abundant array of extracurricular, athletic, and artistic pursuits. They foster character development, creativity, and critical thinking by employing a comprehensive curriculum.

The majority of the best schools in Gurgaon place a strong emphasis on global perspectives and cultural diversity in order to promote tolerance and prepare students for life in the interconnected globe.