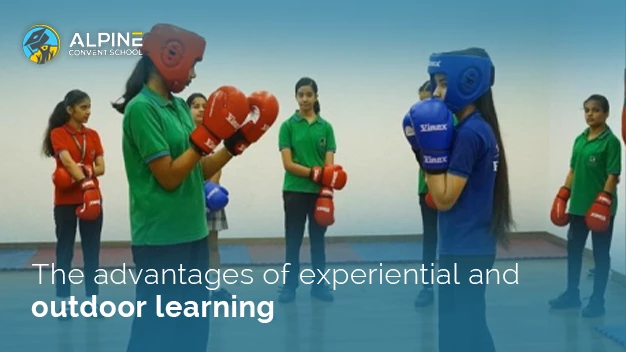 Learning
Have you heard about the increasing importance of experiential and outdoor learning? If not, you are probably hiding under a rock. The education scapes have widely transitioned from strictly academic-oriented to an integrated learning experience combining a miscellany of extra-curricular activities and textbook learning. In fact, Alpine Convent School, the top CBSE school in Gurgaon, rewards students with a holistic and all-inclusive pedagogy that contributes to the cognitive, emotional and physical development of young scholars. g
It is no surprise that education today is a highly competitive sphere, and the world outside is no less than a rat race. Hence, having enough knowledge is certainly not enough. A child must be confident, independent, and capable of implementing the theories and educational concepts in reality. Moreover, students are expected to think out of the box to stand a chance at succeeding in future. Therefore, the top international schools incorporate experiential learning with traditional education to mentor and brain-train young students.
What is experiential learning all about?
Do you know what experiential learning is? Simply put, experiential learning is a hands-on and learner-centred approach. It refers to the process of learning via real-time experiences. First proposed by psychologist David Kolb, the education approach motivates learners to use experiences as a source of knowledge.
Believe it or not, experiential learning is becoming more and more common in educational institutions. This naturally explains why cultural exchanges, project-based learning, and international travels are becoming quite common in international schools like Alpine Convent School.
Are you not convinced yet? Wondering how experiential learning can benefit children? Let's read:
The advantages of experiential learning
1. Students learn educational concepts better
Did you know that students have a hard time understanding concepts that don't apply in real life? Experiential learning encourages scholars to apply and play with real-life ideas and learnings. Little do you realize that the more a student interacts with information, the more realistic and relevant it all becomes.
2. Even mistakes become valuable experiences
Experiential learning intends to motivate students to try on tasks and experiment with different approaches. This allows scholars to understand which approach works and which approach is better abandoned.
3. An improvement in the attitude towards learning
Do you know that experiential learning is designed to fire up emotions in scholars along with knowledge and basic life skills? Implementing the theories in the learning process induces a sense of gratification in the learners. Besides, students also feel inclined towards new learning.
Why just experiential learning? If you have been enquiring about the top CBSE school in Gurgaon, you are certainly aware that outdoor education is a priority in international schools today. After all, education is all about ushering in the overall development of scholars. Aren't you curious to learn more about the benefits of outdoor education? Let's quickly read about the advantages of outdoor learning.
Increased focus
Contrary to what many think, encouraging scholars to try their hands at outdoor sports and activities enhances focus and attention in scholars. If you are not already aware, attention is quite fleeting in the little ones. Engaging young guns in a variety of outdoor activities stimulates neural connections in their brains and works wonders in improving focus.
An increase in memory and creative thinking
Educating children in a confined and boring environment rarely encourages children to open up and explore their creative abilities. Instead, teaching children in refreshing outdoors inspires the little ones to learn, understand, and figure out theories better. In short, a change in the scenario is always good.
Enhanced communication and socio-emotional skills
One of the primary aspects of outdoor education is collaboration and team building. This encourages students to communicate and foster healthy relationships with their peers. Also, outdoor education allows children to think freely, explore, and reduce the barriers in communication.
Outdoor learning is a lot more exciting and interesting for scholars. This is why the top school in Haryana promotes outdoor and experiential learning to foster deeper insights and knowledge in the little ones. In fact, research proves that outdoor learning works wonders in reducing stress and anxiety in scholars. Field trips or excursions, learners acquire insightful and practical knowledge via outdoor education. Moreover, outdoor education involves co-curricular activities and physical activities that engage students and stand out as a remarkable way to ingrain complex educational concepts.
So, don't look any further and choose the best school in Gurugram. Enrol your little one at Alpine Convent School and expose the child to the best-in-class education and extra-curricular activities that integrate academic learning with experiential and outdoor education. Hurry and enrol today!