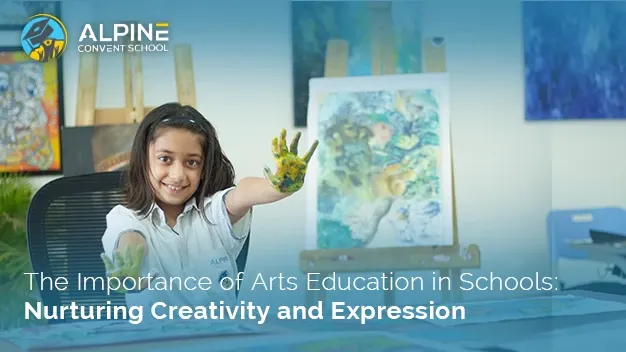 Learning
Ask a classroom full of students what is their favourite subject in school, and a good chunk will shout out loud - Arts. Truly said, art does have the power to bring onto the table an inventive mindset, unleash creative potential, and also sharpen the student's overall growth. A student who spends hours in artistic forms like dance, music, yoga, drama, and so on are unknowingly rejuvenating their soul and soaking in all the positivity. They push their minds to conquer numerous challenges and get out of their comfort. The sad part is most parents and schools are entirely oblivious to the power of this great tool and how it can foster the child's creativity quotient.
Schools in Gurugram are particularly renowned for their progressive learning approaches, infrastructure, and faculties, and also focus on art. If you are someone residing in the Delhi NCR and hunting for the best school for your kid, you would be relieved to know that Gurugram schools have not only delivered some fantastic CBSE results this year but also emphasise learning art. Wondering why art is even essential for your child? Check the below points.
Why the Best CBSE School in Gurgaon Emphasise More on Arts?
On closer scrutiny, you will notice how the refined education plans and policies have stressed the significance of arts in the curriculum. As the student starts engaging in art, it lets them hone their communication and social skills. Furthermore, it also helps them with their emotions and artistic expressions.
1. Character Development and Strengthens Positivity
The moment schools blend art into their learning approach, it instantly aids children in cultivating a cordial learning structure. For instance, as the child practices dancing, singing, painting, or practising a drama, it automatically raises their confidence. Not only confidence but the student experiences a sense of positivity. Their character undergoes a gradual evolution where they slowly learn to get out of their comfort, meet new people, and overcome the fear of opinionating.
Either on their own or by noticing others, these students try to attain several difficult tasks, thereby constructing an aura of reality. As they emerge in the field of art, they understand how difficult life can get while simultaneously figuring out a suitable solution. Due to all these reasons, the top schools in Gurugram never compromise on introducing art as an essential part of their curriculum.
2. Augment Creativity
Art often acts as a breeze of refreshment and revives calmness in the midst of a hectic learning process. It is a known fact that most students experience tremendous academic pressure, especially in their high-school years. With the inclusion of art, most of them acquire the power to downsize their stress level and even increase productivity. Art education, when presented between classes, orients the students to life-long learning of creativity.
3. Imparts the Value of Teamwork
As you research the best schools in Gurgaon with fee structure, don't miss out on their emphasis on art education. With the introduction of art education, your child will not only have a gifted mind but also learn the value of teamwork. You must have witnessed different art forms like theatrical presentations, dance performances or maybe a choir where there are group formations. Have you noticed the level of coordination and optimism these teams have? With art education, your child will know the importance of team integration and bringing about successful results. Every best CBSE school in Gurgaon focuses on art education, and as a result, they witness a considerable rise in their bar.
4. Makes Way for Affinity
Every parent wants their child to be filled with affinity apart from being academically excellent. And the top schools in Gurgaon are apprehensive about how art is beneficial in creating empathy among the students. With art, your child will learn the significance of good behaviour, and this will slowly hone their social and communication skills. They will collaborate with different members of different ages and cultures. They will learn about both success and struggle stories and embark on the journey of life.
5. Art Education Leads to Improved IQs
Top schools in Gurgaon, like Alpine Convent, are thoroughly aware of how creative and cultural pursuits lead to improved IQs. For instance, learning a musical instrument improves memory and focus. On the other hand, dancing strengthens collaboration and spatial awareness. These skills have universal applications and help students grow holistically.
In conclusion, it can undoubtedly be stated that the significance of arts and cultural studies cannot be overlooked. The endless positive effects that art has on students is one of the reasons most top schools in Gurgaon are serious about their incorporation. Self-esteem, inventive nature, communication and social skills, group dynamics, and more are just a handful of advantages oriented with art education. Speaking of the best CBSE school in Gurgaon, Alpine Convent has adequately incorporated art education through a diversified curriculum.