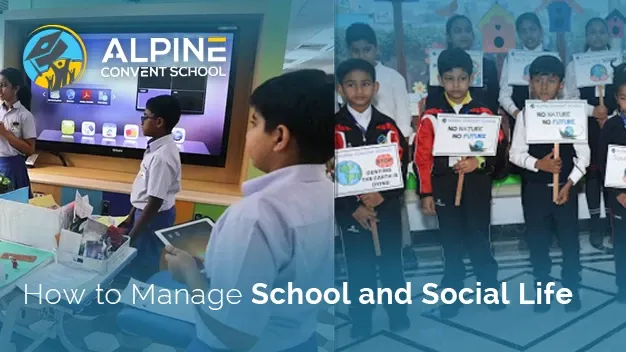 Moral Values
It is not even a surprise that managing school and social life entails an incredibly hectic schedule. Not everyone is adept at managing all the complex school curricula and social life all at once. You will even find many students complaining about their continuous struggle to slide in some time to relax. This is an ever-increasing concern because students are more enthusiastic about learning diversified extracurriculars. Therefore, you will encounter many students enrolling in as diversified classes as basketball to dance, guitar to MMA, and so on. But how to find the balance between school and social life? How to fit in a specific time for your own rejuvenation?
Let us find the same out in this blog, where the best CBSE school in Gurgaon, namely, Alpine Convent, will elucidate how you can handle all the responsibilities, upcoming college applications, family commitments, personal life, assignment deadlines, and so more.
Best Schools in Gurgaon Offer Key Factors To Manage School and Social Life
The first and foremost thing to understand is one should always prioritize their mental health over anything. Although it is not extremely complicated to shuffle from one task to another - all that is required is discovering the right symmetry.
1. Uncovering the Right SCHEDULE
The ideal way to progress your work and also ensure some social time is by setting a schedule. Right at the dawn of the week, create your schedule with a fresh mind. Start by listing all your high-priority tasks, followed by mid-priority and then low-priority ones. The high-priority ones can be the ones with rigid and nearing deadlines. Although it might take some time to create the schedule, the sheer joy of ticking off your completed tasks is truly amazing. As a matter of fact, the best schools in Gurgaon always lay emphasis on schedule creation.
2. Actually Get the Work Done Without Procrastinating
Now that you have created the schedule listing every possible task, it is time to get the work done. The primary trouble with procrastination is that it gets incredibly tedious to get the simplest of work done within the stipulated time. For some people, it might become impossible to finish the work if the deadline isn't looming over their heads. But how to overcome this feeling?
The top schools in Gurugram always recommend their students to begin with small tasks, create a schedule, complete things, minimize distractions by keeping the phone silent or far away, and, most importantly, be kind to themselves.
3. Discover the Best Calendar
Most of us get all pumped about filling the physical calendars with all our dedicated tasks and marking them off post-completion. Until suddenly, after a month, all the motivation flies out of the window, making you feel weary of the process. So, why not get hold of a calendar where you would actually work? Digital calendars like Google Calendar or Outlook have automatic pop-up options where all you need to do is set alarms, and you will be notified of your classes, meetings, deadlines, and so on.
4. Attend to your Yourself
It can be overwhelming - handling every task while studying at one of the best schools in Gurgaon. But you should remember that you are competent and assertive. To truly apprehend your potential, you must start following the schedule with devotion. It is only when you follow the routine that you get time for sleep, hang out, explore places, and more.
5. Pick a Study Strategy
You are always supposed to keep the brainstorming work at the beginning of the day. For instance, solving a challenging quantitative problem, studying a complete chapter, creating a PPT, and more, require demand more time and energy. Therefore, these activities should always be shifted to the morning tasks. It generally involves too much focus to conduct these activities and, therefore, should be done with a fresh mind. If morning isn't your time, then you can try out the evening times.
6. Asking for Help is Normal
If you feel burnt out, it is entirely normal to ask for help. Sometimes, all you require is a breather. In case the project is seeking more time than expected, talk it out with your professor. The best schools in Gurugram, namely Alpine Convent, proactively helps students with personalized teaching. Our school also ensures a low teacher-student ratio.
In conclusion, it is crucial to understand that taking rest actually results in productivity. Burnout can become extremely common if you are not prioritizing your health and mind. Ensure that your weekends are designed only for resting, upskilling, and extracurriculars. Alpine Convent has repeatedly appeared in the list of best schools in Gurgaon, and the reason is our continuous focus on offering a balanced school and social life.