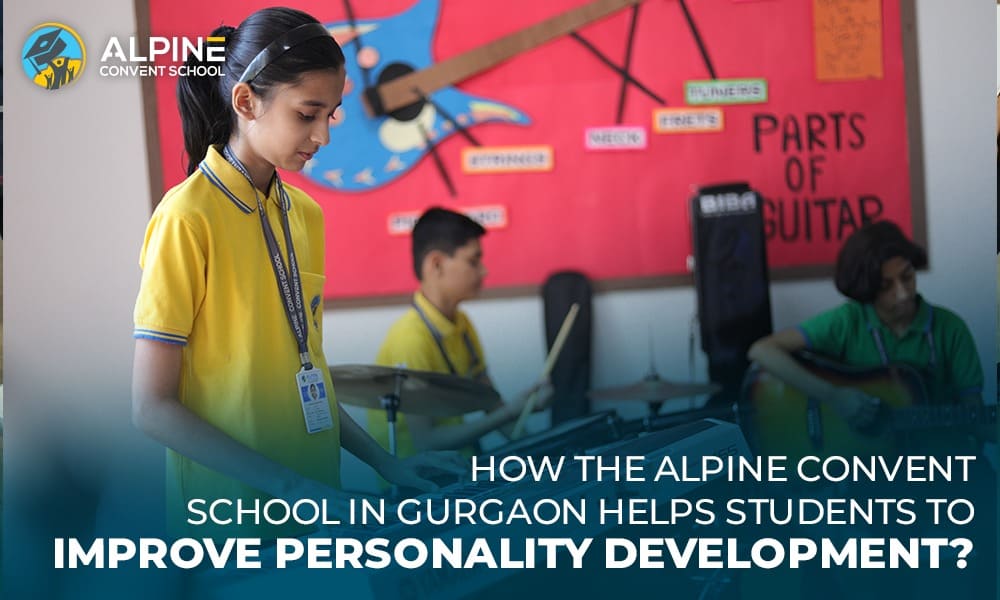 Career
Personality development – a term that's often heard of but rarely understood. Are you aware that personality development should be introduced quite early in a student's life? Well, parents are often concerned about enrolling their little ones in schools equipping scholars with the finest education norms. What one skips thinking about is the importance of grooming children with basic life skills and strengthening their persona. Little do you realise that a strong personality works wonders in adding spades of confidence in young guns. Of course, it paves the way for a cracking future for the young scholars. More importantly, a well-rounded personality improves a student's attitude towards life.
Alpine Convent School, undoubtedly the best convent school in Gurugram, focuses on preparing children for excellence. Robust academics, a world of recreational activities, interactive and personalised learning sessions, grooming modules centred around personality development, and more, the school aspires to nurture scholars into confident and independent grown-ups.
Are you eager to enroll your child in a top CBSE school in Gurgaon? Look no further! Alpine Convent School stands out as one of the best and most preferred convent schools in the city.
Is Personality Development Essential in Kids?
A not-so-sharp personality, shaky confidence, and an indecisive nature are often described as failing attributes in young learners. Unfortunate but true! Ever wondered why? Well, credence and a firm personality empower people to forge ahead in life. It is no secret that life is a hard nut to crack. Academics, careers, or personal lives – sailing through the hurdles is only easy when you have the needed conviction, self-assurance, and well-rounded thoughts. Hence, shaping the personality matters big in students. Afterall, the young guns are the future!
The best schools in Gurgaon do not underrate the significance of amping up personality traits in students early on. Curious to learn more about the benefits of brushing up personality traits in students? Let's share a few:
Keeps the motivation strong in students
Keeping motivated in both professional and personal settings does not come naturally to everyone. You may struggle to find the inspiration to study well, work hard, and enhance your personal life. Reflecting on your strengths and personality in circumstances like this makes up for the void in motivation. It reignites the vigour in you to score well and make an effort to tick off the goals on your list.
Alpine Convent, also the best convent school in Gurugram, works on shaping personality and confidence in the young learners. Mentors here leave no stone unturned to motivate children, harness their skills, work on their strengths, and transform the little ones into smart, independent adults with strong conviction.
Elevates confidence
Children with strong personalities are mostly poised and self-reliant. Scholars have the needed credence to score well in life. From casting a winning impression at interviews to pursuing all future-forward plans, confidence motivates children and adults to make successful headway.
Works on perking up communication skills
The significance of strong communication skills is not unknown. The confidence to communicate without hesitation works like magic. By refining personality traits in children, their competence to communicate both verbally and non-verbally, and witness a hike too.
As an initiative, teachers at the best convent school in Gurugram encourage kids to ask questions, communicate with their peers, and answer freely without fearing the odds of harsh judgment. A supportive learning environment contributes to the shaping of personality in the little ones.
Elaborates a sense of optimism
A cheery and hopeful mind is a much needed trait – don't you agree? Although integral, having a positive mindset is not easy when you lack self-assurance and a well-rounded personality. Therefore, sprucing up emotional and moral attributes in young children inspires them to embrace a positive outlook in complex situations.
The best schools in Gurgaon ensure that students are schooled about the virtues of compassion, sharing, and emotions. Not only does it improve the personality of children, but it inspires kids to look at the bright side of things.
The ability to reflect one's strengths
An individual with a robust personality is often heedful of his or her strengths. By sparking personality traits in children, the little ones have the confidence to implement their strengths best and the assertiveness to unearth a few skills too.
Alpine Convent is known as the best convent school in Gurugram because of its holistic educational approach. Since following a mundane motion is no good, strong personality development caters to a positive mindset and motivates young scholars to embark on a meaningful journey of growth instead.