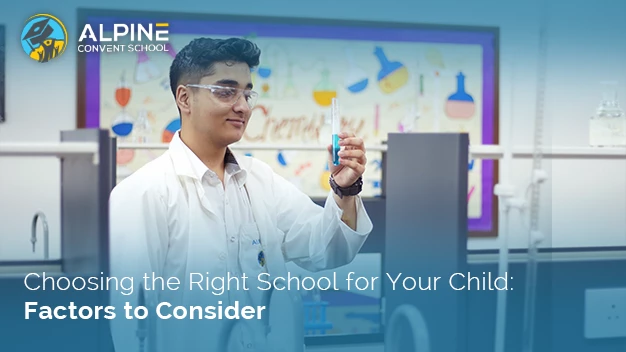 Admissions
Is there any doubt that education can have a revolutionary effect on the world? Probably not. Education is often regarded as a potent weapon for developing the world and driving success. Now, as all know, the true meaning of education is grasped from school. It starts from the primary sections when the child obtains fundamental academic knowledge. This is where the child draws ideas about what exactly education, school, knowledge, and life are. But, with such a rising number of schools around, it has become tumultuous for a parent to find the right one for their child.
A school is your child's second home. Therefore, you'd certainly wish them to get admitted to nothing but the top school in Haryana. It's not feasible for parents to visit every other school to attain information. Understanding this concern, we have created this blog catering to the indispensable parameters that make school selection comparatively convenient.
Crucial Parameters to Consider for Picking Among the Best Schools in Gurgaon
Parents always want the best for their children, and the same thing goes for education. If you select the right school at an early age, there will be a high probability for your child to absorb the right knowledge during their inception phase. Choosing a school that aligns with your child's personality and identifies their skills and interests is truly fortunate. To ensure your child receives that academic institute, consider analysing the following factors.
1. Ranking/Rating
Needless to say, the best schools in Gurgaon will always possess high ratings and reviews compared to the others. Though, you shouldn't entirely rely on the ratings and reviews for judgement. They should mostly be considered as guides or references. You can consider the ratings and rankings as stepping stones and sort out some. Follow it up by accumulating reviews from the parents and students of those high-ranked schools. All you need is the complete reputation of the school.
2. Comprehensive List of Facilities
After sorting through the rankings, check their facilities in-depth. By facilities, we are not talking about the basic ones like library and lab but the modern ones like security systems, air purification, counselling services, school infirmary, research-oriented library, auditorium, playground with facilities for diversified games, and more. Positively ensure that the school you are sending your child to should have a rigid security system.
3. Faculties/Teachers
When you are looking at a top school in Haryana, you will notice the fact that how they always consider nothing but adept faculties. This is majorly done for your child to get an all-around education and a developing learning experience. Moreover, good schools always have a healthy student-teacher ratio where the count of students is comparatively less to be handled by a single teacher.
When you visit the school physically or while gathering reviews from students and parents, always ask about the faculty's behaviour, teaching approach, and disciplinary techniques.
4. A Future-Driven Curriculum
The main objective of sending your child to a school is to empower them for the future. It is pretty discernable by now that learning is no more theory-focused but instead skill-focused - just like Alpine Convent's teaching approach. Today, most good schools in Gurgaon emphasise spreading knowledge through practical application rather than only focusing on books. Apart from the learning aspect, good schools in Gurgaon are equally focused on extra-curricular activities fueling the encompassing growth of a child. Therefore, always opt for a school that offers creative activities, fosters intellectual development, and helps students get out of their comfort zone.
5. Incorporation of Technology
Technological advancements lead the current world. And the education sector is no exception. The best CBSE school in Gurgaon will always underscore the inclusion of technology in their curriculum. Schools like Alpine Convent offers a seamless amalgamation of technology with the teaching approach through gamified learning, interactive content, AI, and more. Video and multimedia are two quintessential elements in the teaching process of the top schools.
6. Design for Incessant Development
It is essential for the parent to remember that the school they are choosing for their child will hone a good chunk of their knowledge base. Therefore, the school should indispensably be keen towards growth, development, and bringing uniqueness to every kid. The top school in Haryana will unquestionably lead to persistent learning, improvement, and execution.
These are a handful of parameters that every parent should consider before selecting the ideal school for their child. Though apart from these factors, there are certain regular yet crucial factors like the location, fee structure, proximity to the house, and much more. On that note, Alpine Convent has four branches spread across the city - Sectors 56, 38, 10, and 67 - located at every corner of Gurgaon. Parents need to be rational when choosing the school. It should always align with the values and type of yours.