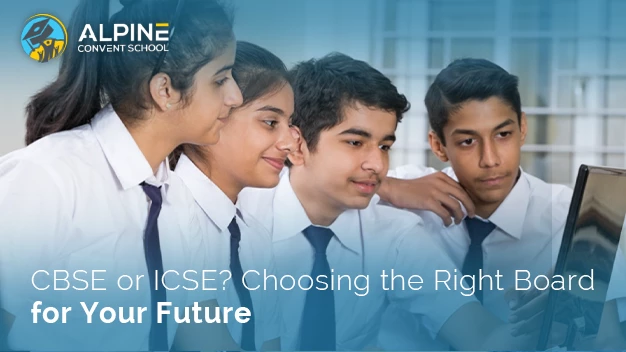 Career
Are you or have you ever encountered a parent looking for a school to admit their child? If yes, then you might have also noticed how frantically they determine between ICSE and CBSE boards. But why? The first thing to apprehend here is there is nothing even remotely related to 'one-size-fits-all' in education. Every child is innovative in their own way. Both of these education boards have individualised features and benefits to choose from. Currently, the two major boards in India are CBSE (Central Board of Secondary Education) and ICSE (The Indian Certificate of Secondary Education). Apart from these two, there are additional boards like International Baccalaureate (IB) and State Boards as well.
Needless to say that the best schools in Gurugram are mostly CBSE and ICSE. And this article will cover the major differences between these two boards.
Brief About CBSE Board
The CBSE board curriculum is mostly based on the NCERT. CBSE curriculum consists of a premium quality syllabus available in both private and public schools. This board is dedicated to distinction and equity in education and has a presence across India with around 26,054 affiliated schools. One will find CBSE books in both Hindi and English languages because of their wide availability.
Brief About ICSE Board
The ICSE board majorly imparts application-based or pragmatic teaching methodology. The ICSE subjects can be categorised into mandatory subjects and the second and third one focuses on the selection of the candidate.
Comprehensive Difference Between ICSE and CBSE Schools In Gurgaon
Let us check out the main differences between CBSE and ICSE schools in Gurgaon by looking at the main criteria.
In Terms of Syllabus and Curriculum
The focal point of difference is the curriculum - while CBSE spotlights subjects like Mathematics and Science, ICSE is more inclined towards practical subjects like humanities, language, literature, and similar ones.
So, if your child wishes to advance their career in engineering and medicine, opt for the best CBSE school in Gurgaon. On the other hand, if you notice or wish to give your child an all-inclusive development with great English proficiency and a future abroad, then ICSE is the one. There is indeed diversity in the ICSE board.
In Terms of Competitive Edge
If you or your child wish to pursue government exams like NEET, IIT, JEE, and so on, then the CBSE board is more suitable. The reason is the CBSE curriculum is similar to that of the syllabus of the government exam. Therefore, to make the process of taking exams more convenient, parents tend to get their children admitted to CBSE schools.
In terms of the ICSE board, students majorly receive analytical abilities and a detailed understanding of the subject matter. So, in terms of competitive edge, CBSE rules.
In Terms of Permissibility
When it comes to studying abroad, the ICSE board is more acceptable. To look into it language-wise, ICSE generally targets more English and literature. It trains the students to take English language proficiency exams for studying abroad like IELTS, TOEFL, GRE, GMAT, and more. In CBSE, you won't find the language preference factor.
In Terms of Easy Transferability
If you have a transferable job, then you should absolutely target the best CBSE school in Gurgaon because of its nationwide availability. In this board, you will encounter an alphabetical grading system. The board is known for preaching the conventional teaching structure and, therefore, quite famous across India.
In Terms of Grading
A pretty major criterion of difference between CBSE and ICSE is the grading process. While CBSE opts for a grading system, ICSE follows by offering scores to the students.
Narrowing It Down
The main factor to consider here is choosing a board for your child that offers the freedom to study. Comprehensively go through all the available options, even the ones apart from CBSE and ICSE and then select. The best schools in Gurgaon are available on all sorts of educational boards.
It is only after you have gone through the curriculum, features, advantages, and also disadvantages that you will be able to culminate in the most effective curriculum. It is an utterly subjective choice and should only be taken after thorough research.
Speaking of the best schools in Gurgaon, Alpine Convent is known as a promising school in Gurgaon. Our school has been striving for 25 years, and finally, we have branches spread across 56, 67, 10, and 38 - each of which caters to a large student base. If you are looking for the best CBSE in Gurgaon, you can certainly consider Alpine Convent for its skill-based and innovative learning approach.