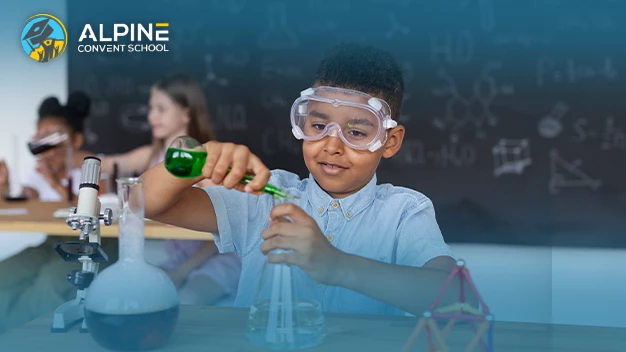 Digital Classroom
The inclusion of robotics lab in school is no longer a matter of debate. Students need exposure from an early age to be able to feel comfortable working around machines as the world is inevitably moving towards that future. However, robotics labs in schools are more than just a necessity. In fact, many teachers around the globe believe that they complement the present curriculum, help enhance STEM education and lead to other such benefits that aid students to effectively take their education forward. Thus, the best CBSE schools in Gurgaon now have dedicated robotics lab in their premises as they wish to extend the following advantages to all their growing students.
Robotics make STEM education application-oriented
Schools are already equipped with the knowledge of implementing science and mathematics into their curriculum. They can still bring in technology by upgrading their IT labs and teaching through smart classes. But the engineering aspect of STEM always remains a challenge as mere theory cannot build the required skills among students. Robotics labs in school helps to provide that glue that schools tend to miss. Through working robots, students can learn STEM and apply their knowledge with the help of a single model. Hence, STEM receives its right treatment and enable students to take the full benefit of this modern curriculum.
It leads to higher engagement
The top 10 CBSE schools in Gurgaon look to teach through engagement and robotics labs have the answer in them. STEM education, often, becomes informational. Continuous lessons of complicated subjects demand a considerable effort from students which tends to bring in a certain level of monotony. Almost all children are interested in robots. The modern entertainment industry also pushes their curiosity. Thus, if they know that they will ultimately be linking their class lessons to the robots in the lab, the engagement factor automatically rises. They feel internally driven to study their STEM subjects and the practical application that comes after seems fascinating to them.
Students learn programming skills
Which, in turn, teaches them critical thinking and problem-solving. Programming is not about landing the best of jobs in the future. The skill to code makes students more analytical and rational as they have to think critically to solve the problem at hand in order to write a program. In the robotics lab in school, students can see their codes take shape. When they move the robotic arm or make it do a certain task by actually writing algorithms for it, they develop the motivation to explore and learn more. Students with exposure to robotics laboratories become better programmers than the batch who does not. The former sees enhanced skill development with the added bonus of a brighter future.
They also become team players
No robot is the creation of a single person. It requires a team to get a robot out of manufacturing and make it work. While learning as well, students generally sit around a robot in a group to explore this new technology and discuss among themselves as to reach the concept's depths. In that team, a few may be efficient programmers, others may be good with the involved circuitry. One may stand out as the leader who conducts the discussion in a constructive manner while another may take the responsibility to help the struggling member. Robotics lab in school, where almost everyone is interested to learn, is a great place to enforce collaborative learning.
Robotics combine technology with creativity
In the future, students will have to innovate around technology. Most of them will be in jobs where humans will work alongside intelligent machines. Even in the sphere of startups, the demand is shifting on the technical side and more founders are coming up with businesses that infuse technology to a particular industry. Hence, for professional success, students will have to blend their creativity with technology. They will have to come up with ideas to solve regular problems with robots, AI, and more. The exposure in schools helps create the foundation. Students become proficient thinkers in the technological lines.
So, while searching for the best schools in Gurgaon with fee structure, try to pick institutes with a working robotics lab on the campus along with other modern equipment that students need exposure to. Such an infrastructure exists in the Alpine Convent School where robotics is taught as a part of the curriculum and students have the freedom to experiment with actual models. Alpine believes in learning by doing and thus, its STEM education is complemented by the robotics lab. Moving forward, students need this knowledge. Technology will dictate a major chunk of their lives. Schools hold the responsibility to prepare the children for their future and robotics education is a crucial part of that mission.